Yale Babylonian Collection received two major donations in 2016.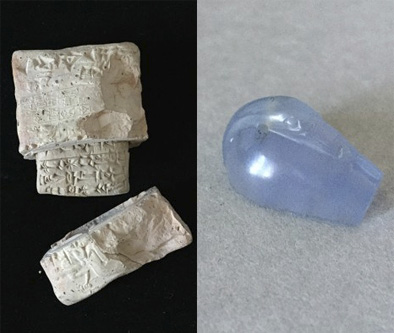 By Agnete Lassen
The Yale Babylonian Collection saw a significant increase in its holdings through two major donations in 2016. A donation by Olga and William David in memory of Nazim and Elias Solomon David included more than 500 seals, bronzes, terracotta plaques, cuneiform inscriptions and sculpture. The core of the donation is 360 stamp and cylinder seals dating from c. 3100 down to c. 500 BCE. These seals are miniature works of art representing thousands of years of art and social history and have now become part of the Babylonian Collection's research and teaching mission. The donation also included five Persian astrolabes, all from c. 1700 CE Isfahan, which have been used for instruction by Yale's History of Science program as well as in the Islamic Studies graduate seminar.
In honor of Lawrence Henry Ott ('37), Kenneth Ott ('66) donated his father's collection of Babylonian and Egyptian artifacts. The elder Ott developed an interest in objects from the ancient Near East, when he studied Akkadian in the Yale Babylonian Collection in 1934. The donation includes Old and Neo-Babylonian cuneiform tablets and cylinder seals as well as Egyptian scarabs and beads. Also these pieces have become part of the Collection's teaching repertoire, first, in a NELC course on the Origins of Writing. Items from both the Ott and the David gifts will be on display in an exhibition of new acquisitions planned for later in 2017.  
Additional information can be found online at:
http://news.yale.edu/2016/12/16/yale-alumnus-donates-treasure-chest-rare…
http://news.yale.edu/2016/04/18/yale-babylonian-collection-receives-gift…