Ritual Landscape and Performance Conference at Yale on September 23 and 24, 2016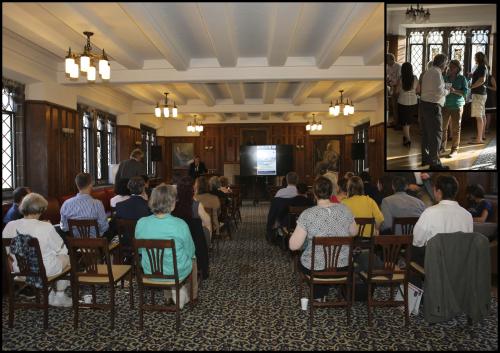 On September 23 – 24, 2016 Yale in Egypt and the Department of Near Eastern Languages and Civilizations of Yale University hosted a two-day international and interdisciplinary conference on the Ritual Landscape and Performance. 
The first day was dedicated to the fields of Egyptology and Coptic Studies, and comprised talks on the ritual landscape throughout the different time periods of the ancient Egyptian culture as well as the aspect of performance. On the second day scholars discussed the topic with regard to the cultures of ancient and modern Mesopotamia, the ancient and Hellenistic Near East, ancient Greece, Meso-America, and ancient China. A presentation on digital archaeology and its resources for the reconstruction of ancient landscapes complemented the conference.  At organized lunches and dinners, the presenters were not only able to compare their research and discuss the topic from different cultural angles further, but they could also establish new contacts, which might lead to future collaborations. The speakers enjoyed a private visit to the ancient Egypt exhibit at the Peabody Museum to conclude the conference.
The publication of the conference proceedings is anticipated for late 2017.
The following speakers presented their latest research results at the conference: John Baines (University of Oxford, United Kingdom), Miroslav Bárta (Charles University Prague, Czech Republic), Davíd L. Carrasco (Harvard Divinity School, USA), Oswaldo Chinchilla (Yale University, USA), John C. Darnell (Yale University, USA), Stephen Davis (Yale University, USA), Sargon Donabed (Roger Williams University, USA), Eckart Frahm (Yale University, USA), Milette Gaifman (Yale University, USA), Christina Geisen (Yale University, USA), Robyn Gillam (York University, Canada), Ömür Harmansah (University of Illinois, USA), Martin Kern (Princeton University, USA), Mary-Ann Pouls Wegner (University of Toronto, Canada), Lauren Ristvet (University of Pennsylvania, USA), Ute Rummel (German Archaeological Institute Cairo, Egypt), Martina Ullmann (University of Cologne/Ludwig Maximilians University Munich, Germany), Alberto Urcia (Yale University, USA), and Harco Willems (Catholic University of Leuven, Belgium).