Oldest Rock Art in Egypt Discovered by Belgian Team and Yale's Darnell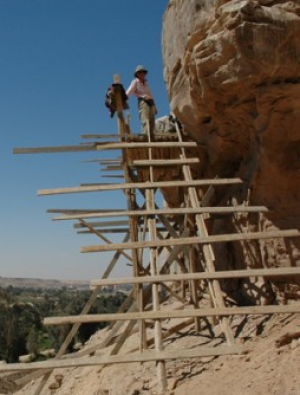 Using a new technology known as optically stimulated luminescence (OSL), a team of Belgian scientists and Professor John Coleman Darnell of Yale have determined that Egyptian petroglyphs found at the east bank of the Nile are about 15,000 years old, making them the oldest rock art in Egypt and possibly the earliest known graphic record in North Africa.
The dating results will be published in the December issue of Antiquity (Vol. 85 Issue 330, pp. 1184–1193).
The site of the rock art panels is near the modern village of Qurta, about 40km south of the Upper-Egyptian town of Edfu. First seen by Canadian archaeologists in the early 1960s, they were subsequently forgotten and relocated by the Belgian mission in 2005. The rediscovery was announced in the Project Gallery of Antiquity in 2007.