Christina Geisen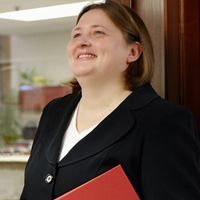 Christina Geisen (PhD in Egyptology from the University of Toronto, Canada; MA in Egyptology, Islamic Studies, Pre- and Early History from the University of Bonn, Germany) joined the Department of Near Eastern Languages & Civilizations in August 2015 as Postdoctoral Research Associate in Egyptology and Bibliography. Besides working on her own research, she is teaching the Introduction to Classical Hieroglyphic Egyptian I and II, curating the Egyptian Reading Room in Sterling Memorial Library, and organizing a conference on Ritual landscape and performance.
Christina's research mainly focuses on ancient Egyptian funerary and ritual texts, including ritual landscape and performance, as well as onomastics. Further areas of interests are the history of the Middle Kingdom and the Second Intermediate Period, as well as the perception of geography and landscape in ancient Egypt.
Before coming to Yale, she has been a Social Sciences and Humanities Research Council of Canada Postdoctoral Fellow at the University of Toronto, in the course of which she worked on basilophoric personal names attested from the Old Kingdom to the end of the Second Intermediate Period. Besides teaching classes on ancient Egyptian history and language at the University of Toronto (2008-2015) and at Wilfrid Laurier University Waterloo (2014), she worked as research assistant in the project "Divine light. Luminous aspects of divinity in Egypt and Mesopotamia" under the leadership of Prof. Dr. Katja Goebs at the University of Toronto. She also gained fieldwork experience in her ongoing participation as epigrapher of the University of Toronto North Abydos Votive Zone Project in Abydos, Egypt, lead by Prof. Dr. Mary Ann Pouls-Wegner of the University of Toronto (http://inividual.utoronto.ca/NACZproject/). 
Publications
Monographs
The Ramesseum Dramatic Papyrus – A new edition, translation, and interpretation (PhD thesis, University of Toronto, 2012) (http://tspace.library.utoronto.ca/handle/1807/65472)
Die Totentexte des verschollenen Sarges der Königin Mentuhotep aus der 13. Dynastie. Ein Textzeuge aus der Übergangszeit von den Sargtexten zum Totenbuch. Studien zum Altägyptischen Totenbuch 8. Wiesbaden: Harrassowitz, 2004
Articles
"Two Ramesside Stelae with a pyramidial top." In: Morenz, L. and El Hawary, A. (eds.), Weitergabe. Festschrift für Ursula Rößler-Köhler zum 65.Geburtstag. Göttinger Orientforschungen, IV. Reihe:  Ägypten 53. Wiesbaden: Harrassowitz Verlag,  2015, 189-195
"Die Stele des Pa-wah." In: Müller-Roth, M. und M. Höveler-Müller (Hrsg.), Grenzen des Totenbuchs. Ägyptische Papyri zwischen Grab und Ritual. Rahden in Westfalen: Verlag Marie Leidorf GmbH, 2012, 125-6
"Wisdom Literature – Moral and ethical values of the ancient Egyptians." The SSEA Newsletter, 2009-10 # 2/3 (2010), 15-16
"Hidden treasures in the storerooms of the ROM – Papyrus Toronto ROM 978x43.1." The SSEA Newsletter, Summer 2006 (2006), 1-2
"Zur zeitlichen Einordnung des Königs Djehuti an das Ende der 13. Dynastie." Studien zur Altägyptischen Kultur 32 (2004), 149-157
Encyclopedia and Catalogue Entries
Entry "Giza." In: Bagnall, Roger S. et al. (eds.), The Encyclopedia of Ancient History. Vol. VI. St. Albans: John Wiley & Sons Ltd, 2012, 2919-2923
Entries "Djed-Pillar", "Model Coffin", "Shabti Box", "Ptah-Sokar-Osiris Figure." In: Fang, Lin Qui (ed.), Quest for Immortality. Taipei: Ri Dong Art Publisher, 2011, 180, 181, 194f., 203
Book Reviews
Review of Grajetzki, W. The coffin of Zemathor and other rectangular coffins of the late Middle Kingdom and Second Intermediate Period. GHP Egyptology 15. London, 2010, Journal of the Society for the Study of Egyptian Antiquities 38 (2011/12), 218-221
In preparation/planning
Books
A statue ritual in commemoration of Senwosret I – P. BM EA 10610.1-5
Articles
"Basilophoric personal names of the ancient Egyptian Old and Middle Kingdoms"
"Some remarks on the titles iry-Xt nsw, iry ioH wdpw, and sXnw-#X."
"An attempt to identify the drawing on the verso of P. EA 1060.1-5."
Book reviews
Review of Vandenbeusch, M. Catalogue des bandelettes et mommies du Musée d'art et d'histoire de Genève. CSEG 10. Genève, 2010 (to be published in Journal of the Society for the Study of Egyptian Antiquities 2016)
Review of Grajetzki, W. Tomb Treasures of the Late Middle Kingdom: The Archaeology of Female Burials. University of Pennsylvania Press. Philadelphia, 2014 (to be published in Journal of the Society for the Study of Egyptian Antiquities 2016)
Title:
Postdoctoral Associate & Lecturer
Address:
304 Elm Street, New Haven, CT 06511
Email:
christina.geisen@yale.edu