A Commemoration Ritual for Senwosret I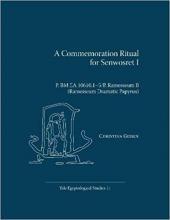 Subtitle or Series:
Yale Egyptological Studies 11
Description:
A Commemoration Ritual for Senwosret I, better known under the term Ramesseum Dramatic Papyrus, is a document that was found in a late Middle Kingdom tomb in the Ramesseum necropolis, together with other manuscripts and artifacts, all primarily magico-medical in function. The present study discusses the occupation of the tomb owner based on an analysis of this exceptional find in its entirety. The main core of the book is dedicated, however, to the Ramesseum Dramatic Papyrus. It examines the fabrication of the manuscript and its present condition. An updated translation and a grammatical analysis of the text are provided and a discussion of the relationship of myth and ritual as well as of the dramatic aspect of the ritual is included. Based on the analysis of the content, the participants in the ritual, the representation of the king in the vignettes, and relying on the comparison between the rites occurring in this document and those included in other royal and statue rituals attested from ancient Egypt, it can be shown that the text features a ritual that was held in commemoration of the deceased king Senwosret I. The book also includes photographs of the manuscript as well as digital drawings of the papyrus.
Press Information:
Yale Egyptological Studies