Selim Tiryakiol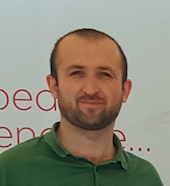 Selim Tiryakiol is a lecturer of Turkish at Yale University. He holds a Ph.D. in applied linguistics and a M.A. in Ottoman Turkish. In his doctoral research, he focused on the opportunities of pedagogical grammar theory in Turkish language teaching. The focus of his M.A. research was the Tuhfa-i 'Âsim, an educational dictionary written in Ottoman Turkish by Mutarjim 'Âsim Afandi (d. 1819). He is currently working on two book projects, both extended versions of his doctoral thesis: Grammar Pedagogy and Pedagogical Grammar of Turkish (A Practical Turkish Grammar Book). His other research interests are distance language teaching, teaching Turkish as a heritage language, and teaching classical languages.
Dr. Tiryakiol teaches Turkish at a community-based weekend school in New Haven as well. He is a Turkish language representative for the Coalition of Community-Based Language Schools.
Before joining the Yale faculty, he was a research assistant at Yıldız Technical University in Istanbul, Turkey. He also taught Turkish as a second language at  The Turkish Language Teaching and Applied Linguistics Center (TOMER) for 5 years. He was then awarded by The Scientific and Technological Research Council of Turkey (TUBITAK) to conduct his doctoral research at Central Connecticut State University during 2018.
Outside of his academic work, Dr. Tiryakiol is a board member of the leading Turkish book review journal Okur. He has also served as a board member of the International Youth Association of Turkey, a non-profit organization for youth studies and activities, in 2015-2016. In the summer of 2015, he participated as an exchange volunteer in West Africa with the support of the Turkish Corporation and Coordination Agency. He is involved in various national and international projects on youth education policies. 
Address:
304 Elm Street, room A-45